Brought to you by
www.easecomm.com Complete e-solutions for online businesses
XXIst World Congress of Poets will greet the 21st Century
in Sydney with the theme -

'Poetry for World Peace in the New Millennium'
Sub-themes:
Aboriginal voices of the land and the sea
The many voices of Australian poetry
Voices of the future – young people and poetry
Defining your poetic voice
Voice of the earth – many lands many people

This year the Congress is being held in Hong Kong Nov 4-7th
For details contact
Sze Kam Cheung
szekam2001@yahoo.com.hk
Write for invitation to Sze Kam Cheung
Flat B, 2/F 36 HaHeuing rd Tokwawan, Kowloon, Hong Kong.
All WCP's are pre-registration:

Papers from
the Sydney Congress
The FULL 2001 Program



About the World Congress


The Bushwalk
The Sydney Committee
Registration

Papers from Conference will be posted soon
Valuing Our World Poetic Heritage 2000 Highlights included a very moving reading by refugee poets and a reading by the best known Korean poet Jung Ho-seung.

His poems and paper are here.
XXI WORLD CONGRESS OF POETS
SYDNEY 7-11 OCTOBER
is over and was a great success.
Thanks to the hard work of the Committee and others who ensured that the Chinese Visas came though at the last minute.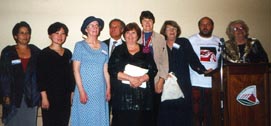 The Committee at the Farewell Dinner,
Paddington Town Hall

Congratulations to the poets Michael Sharkey chose as outstanding from the anthology The Opening of Borders, Gabriel Planella, Dushan Ristevski and Louise Wakeling.

There were six honourable mentions. Ludwika Amber, Joseph Baran, Robyn Ianssen, Craig Powell, Alice Sinclair and Nicolette Stasko.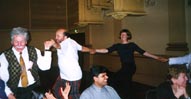 Dancing on the last night

A few Photos from the Chinese Banquet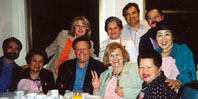 Some of the happy Latin American poets
(and Young-Ja Park, from Korea)




Your web master with John Miles, and Polish poets, Ludwika Amber, Mathew Wolnicki and Jozef Baran

A CONGRESS FOR PEACE THROUGH POETRY!
The World Congress of Poets was formed in 1969 in an effort to achieve world peace and understanding through poetry. It is not a political organisation and poets from a diverse range of languages, ethnic groups and nations will be participating in this congress. This is the first time that the congress will take place in Sydney. Professor Elizabeth Webby, the Congress patron, will open this event at the official reception hosted by the Mayor of South Sydney on Sunday 7th October. The theme of the Congress is:
"Poetry for World Peace in the New Millennium."
The committee organising the XXI World Congress of Poets in Sydney, includes Indigenous poets, and many Bilingual poets who write not only in English but also in Arabic, Chinese, Croatian, Polish, Spanish and Turkish. The Committee believes that through the arts and poetry in particular, we creatively explore our relationships with each other and our environments.
The Sydney World Congress of Poets Committee looks forward to welcoming poets from across the world as well as the Australian poets and the public in general to take part in this exciting and wide ranging week of readings, workshops and literary events.
This will be an excellent opportunity for local poets to showcase their poetry in English and other community languages

Come along and enjoy the last literary dinner:

Thursday 11th 6.30pm Farewell Dinner

Hosted by South Sydney City Council
at
Paddington Town Hall

The anthology launched contained brief descriptions of poetic traditions from over thirty countries and the prize winning poems from the Poetry Competition.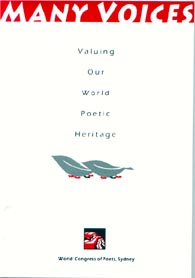 "a worthy little publication'
Debra Adelaide, Sydney Morning Herald. 4.11.2000

The anthology is for sale:
Tel (612) (02) 9809 5066;
rianssen@hotmail.com


Extract from AUSTRALIA - (INDIGENOUS POETRY) by Jennifer A Martiniello
This is the first time this world event will be held in the Southern Hemisphere. The most recent Congresses were held in Greece, Mexico, Slovakia, Korea and Japan. Poets from more than 50 countries will participate in Sydney in 2001, amongst them many famous poets who will be sharing their work and creative perspectives.
Australia is ideally placed to hold such an event in view of the diversity of cultures and languages of poets living here. The event will showcase poets writing in English, particularly indigenous poets and those writing in a multitude of other languages in Australia.
This festival of poetry from around the world will feature readings, workshops, get to know you sessions, panels, music, art and other cultural events.
There will be sessions in English, Chinese, Arabic and Spanish and several other languages. Communities from across Australia are involved.
Everyone is welcome.



World Congress NEWS


Contacts:
Program and Post Conference Tour
Anne Davis 97644453
Robyn Ianssen, Chair, Executive Committee,
Tel (612)
(02) 9809 5066
rianssen@hotmail.com
Site updated
1.3 2002